Dit is een gastblog van Vincent Buyssens, community manager van het designplatform Antwerp Powered by Creatives (APBC). Vincent is een digitale nomade die via design en technologie timmert aan de samenleving van morgen; superdivers, post-human en onwaarschijnlijk interessant.
De Marokkaanse gemeenschap in Vlaanderen telt heel wat knappe koppen. Kleppers die het product zijn van twee of meerdere culturen en op hun eigen manier het economische en maatschappelijke landschap aan het hertekenen zijn.
Enkel zijn ze nog niet allemaal bij het brede publiek bekend. Niet geheel onbegrijpelijk aangezien ze nog niet uit de coulissen zijn getreden of een breed platform hebben..
Met deze gastpost wil ik deze Vlaamse Marokkanen in de spotlights zetten en een voorproefje geven van een nieuwe generatie ondernemers en opiniemakers die u best eens uitnodigt voor een workshop of lezing. Want vergis u niet: dit zijn de leiders van morgen.
1. Youssef Kobo
Altijd strak in pak, zelden om een mening verlegen. Deze twenty five-something Mechelaar ging vorig jaar aan de slag als kabinetsmedewerker bij CD&V, maar is vooral bekend voor zijn steeds gevatte doch onderbouwde meningen en zijn gigantisch netwerk dat zelfs tot in het Witte Huis reikt.
Met een interesse en expertise die zowel (geo)politieke als entrepreneurial thema's omvatten, is Youssef de ideale man om ter rade bij te gaan om een blik te krijgen op de maatschappelijke uitdagingen van vandaag en de samenleving van morgen.
2. Rachid Lamrabat
Op minder dan een jaar tijd zijn we gegaan van 'moslims zijn niet relevant voor Belgische ondernemers' naar bordjes met Prettig Suikerfeest op de voordeur van tientallen Antwerpse winkels.
En dat is vrijwel geheel de verdienste van etnomarketeer Rachid Lamrabat die ondernemend Vlaanderen het economische potentieel van de halalindustrie toonde. Samen met zijn vrouw Fatima runt hij het consultancybedrijf Tiqah dat bedrijven van Colruyt tot de lokale beenhouwer in contact brengt nieuwe klantensegmenten.
Van plan om binnen de Marokkaanse of Rwandese gemeenschap een nieuw klantenbestand aan te boren? Best eerst aankloppen bij Rachid.
3. Yasmien Naciri
Net zoals Youssef Kobo een sociale media-eindbazin met een breed interesseveld en uitgesproken mening. Maar waar Youssef meer de nadruk legt op politieke thema's, verdiept Yasmien zich meer in ondernemerschap en marketing.
Hoewel ze nog studente is, mag je haar gerust als een professional beschouwen. Zo mocht ze niet enkel stage lopen bij Microsoft, maar is ze ook founder van de uiterst succesvolle vzw Amana die zich zowel inzet voor daklozen in Vlaanderen als weeskinderen in Marokko.
Advies nodig over ethisch ondernemerschap en marketing? Yasmien is your woman.
4. Fouad Gandoul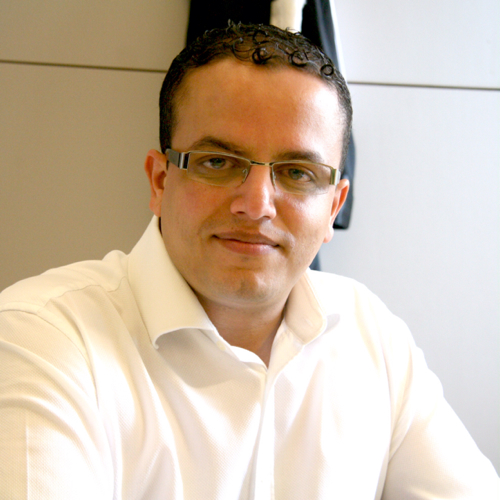 Regioverantwoordelijke ACV België en politiek analyst die net zoals Youssef Kobo door het Amerikaanse Department of Foreign Affairs gezien wordt als een 'leader of tomorrow'. Naast ijveren voor de rechten van werknemers, bijt hij zich ook dagelijks vast in lokale en geopolitieke thema's en hoe die zich verhouden tot de rol van de moslim in de samenleving.
Hem volgen op sociale media is een gebalanceerde blik krijgen op hoe onze samenleving en de rest van de wereld in elkaar zit.
5. Laila Ben Alal
Een van de beste journalistes die ons land rijk is. Na jarenlang van puike berichtgeving en diepgravende journalistiek bij Middle East Eye en Vranckx, werd ze vorig jaar geheadhunt door CNN omwille van haar goede dossierkennis rond extremisme en terrorisme in Europa en het Midden-Oosten .
Wanneer de gerenommeerde journaliste Christiane Amanpour zegt 'I want your name to be next to mine', weet je dat de lof die Laila toegespeld krijgt niet uit de lucht gegrepen is.
CNN mag dan misschien de ultieme droom voor elke journaliste zijn, het staat buiten kijf dat dit voor Laila nog maar het begin is.
6. Najim Einauan
Één van de drijvende krachten achter Platform Allochtone Jeugdwerking en een expert op het vlak van islamitische geloofsleer en jurisprudentie. Deze combinatie maakt hem niet enkel zeer geschikt om te weten wat er bij jongeren leeft, maar ook om religieus advies te geven aan hen die de lokroep van IS proberen te weerstaan.
Najim is een man die twee keer nadenkt voor hij iets zegt, maar wel altijd de nagel op de kop slaat.
7. Abdelhay Ben Abdellah
Head of Service & Technology Management bij een Belgische telecomoperator met meer dan vijftien jaar business ervaring over heel de wereld. Minstens even interessant is dat hij ook een ongeëvenaarde dossierkennis heeft over de Belgische politiek en een begiftigd opinieschrijver is.
Onder het pseudoniem Abdelhay schrijft hij regelmatig diepgravende stukken over racisme, radicalisering en andere maatschappelijk relevante thema's. Als Mechelse native is hij ook zeer goed op de hoogte van het reilen en zeilen van de politiek daar.
8. Sarah Dimani
Een Antwerpse ontwerpster die graphic design, mode, personal branding en islamitische invloeden naadloos met elkaar weet te verweven. Dat ze een stijlicoon is, wordt ook beaamd door de meer dan 80.000 volgers op Instagram die haar dagelijks om tips vragen.
Momenteel is ze bezig met het uit de grond stampen van een sjalen-winkel waar iedereen ongeacht welke cultuur z'n gading zal kunnen vinden.
Stijladvies nodig of benieuwd hoe je verschillende culturele elementen op een logische manier combineert? Sarah regelt het wel voor je.
9. Illias Marraha
Nog een Antwerpse influential die de spirit van het ondernemen volledig behelst. Samen met z'n vrouw Ibtissam brengt hij binnenkort een boekje over de Ramadan uit dat specifiek gericht is op Vlaamse moslimkinderen.
Als geboren netwerker en innovatie-aficionado was hij ook de geknipte persoon om de Scouts & Gidsen Vlaanderen eind 2014 te vervoegen waar hij nu nog steeds verantwoordelijk is voor het afstemmen van het beleid op de wensen en noden van vrijwilligers.
10 Aya Sabi
Hoewel Fikry Al Azouzi al bewees dat de Marokkaanse moslimgemeenschap heel wat taalvirtuozen herbergt, zijn er slechts weinigen die zoals Aya Sabi duizenden Vlamingen weet te bekoren en ontroeren.
Deze Limburgse schrijfster maakte haar debut als slam poet en is nu full-time bezig met het vertalen van haar emoties en kijk op de wereld naar aangrijpende schrijfsels. Deze kan je lezen op haar persoonlijke Facebookpagina of op haar eigen blog op de website van deredactie.be.
Een opkikker of pakkende tekst nodig? Aya doet het met liefde.
11. Khalid El Jafoufi
Rechtenstudent, medeoprichter van de eerste Belgische islamitische studentenvereniging Mahara en getalenteerd opinieschrijver die bij elk stuk meteen raak schiet.
Hij is ook een betrouwbare bron op vlak van Islamitische geloofsleer en nationale politiek wat hij te danken heeft aan zijn hoog intellect, breed (religieus) netwerk en stoïcijnse zelfdiscipline.
Welk professioneel pad hij later zal kiezen valt moeilijk te zeggen gezien zijn prille academische carriere, maar hij is nu alvast al een belangrijke stem in het maatschappelijke debat.
12. Taha Riani
Digital native die samen met Hanan Challouki de website Mvslim.com uit de grond stampte en zich daarmee katapulteerde tot founder van 's lands populairste website die maandelijks miljoenen bezoekers over de vloer krijgt.
Dat komt niet enkel door de knappe branding, maar ook door de leemte die ze vult binnen het medialandschap. Mvslim brengt namelijk Engelstalige inspirerende en motiverende content voor jonge moslims over heel de wereld.
Benieuw wat er echt leeft bij moslimjongeren? Bij hem ga je zeker een genuanceerd en representatief antwoord vinden.
13. Imade Annouri
Vlaams Volksvertegenwoordiger bij Groen en een rijzende ster in de Belgische politiek. Zijn ervaring bij de KU Leuven als adviseur 'instroom allochtone studenten' geeft hem een uniek inzicht in de uitdagingen van het hedendaags onderwijs. Als gedreven sportfanaat met een grote voorliefde voor basketbal adviseert hij de partij ook over het sportbeleid.
Wat Imade vooral typeert is zijn genuanceerde en ijzersterke politieke analyses wat hem zeer geschikt maakt om thema's zoals gelijke kansen voor allochtone jongeren aan te kaarten. Niet toevallig ook één van zijn beleidsdomeinen.