"Delete iedereen niet gewoon nieuwsbrieven?"
"Is e-mail niet ouderwets?" "Zijn er geen nieuwere, betere kanalen?"
Dat zijn uitspraken die we vaak horen, maar we zijn het er niet mee eens.
Als marketingtool zijn nieuwsbrieven misschien niet zo hip als het nieuwste sociale media kanaal of zo opzichtig als earned media, maar e-mail heeft een paar unieke eigenschappen waardoor het niet mag onbreken in je content marketing mix.
(Lees ook: benieuwd hoe je de inschrijvingen voor je nieuwsbrief kan verhogen? Lees dan onze blog over hoe je je conversie op je website kan optimaliseren)
Waarom zijn marketeers dol op e-mail en nieuwsbrieven?
1. In de eerste plaats omdat e-mail een heel betrouwbaar communicatiekanaal is. Het afleveringspercentage van een e-mail wordt over het algemeen geschat op 88% tot 99%.
Zodra je e-mail in de inbox terechtkomt, is er een grote kans dat mensen hem ook effectief lezen. Uit een rapport blijkt dat 90% van de Amerikanen dagelijks hun e-mail gebruiken. Bijna 20% controleert z'n inbox meer dan vijf keer per dag, en 10% zegt zijn e-mail "de hele tijd" te checken. Uit datzelfde onderzoek blijkt ook dat de meeste professionele gebruikers van e-mail hun mail ook na de werkuren checken.
2. Een andere factor is de aandacht die e-mails krijgen. Mensen kijken niet gewoon naar hun e-mail, ze lezen hem echt. Gemiddeld besteden mensen 12 seconden aan een (promotionele) e-mail. Dat lijkt misschien weinig, maar het is een eeuwigheid vergeleken met wat Facebook en LinkedIn tellen als een impressie, namelijk: "elke inhoud die minstens 50% op het scherm is gedurende één seconde".
In 12 seconden kan een lezer veel informatie doornemen, zodat hij beter kan beoordelen of hij dieper in je e-mail wil duiken.
3. Wanneer je toestemming hebt om iemands e-mailadres te gebruiken, kan je zijn/haar aandacht opeisen op een manier die weinig andere kanalen kunnen.
Je kan je prospect een bericht sturen zonder te wachten tot hij/zij het initiatief neemt. Je kan inhoud druppelsgewijs aanbieden, bekendheid en vertrouwen opbouwen, en dat alles in de relatieve privacy van een inbox. Natuurlijk kunnen prospecten zich nog steeds uitschrijven, maar dat ligt aan je inhoud, niet aan het kanaal.
4. En als het op omzet aankomt, maakt e-mail ook al indruk. Uit een Brits rapport uit 2019 blijkt dat elke euro die aan e-mailmarketing wordt besteed, 42 euro aan omzet oplevert – dat is een ROI van maar liefst 4100%. Weinig marketingactiviteiten bieden een hogere return aan dan een e-mail schrijven.
E-mail vs. social?
Als mensen twijfels hebben tegen nieuwsbriefmarketing of e-mail nurturing, is dat vaak omdat ze voorkeur of prioriteit geven aan sociale media. Maar als het er echt op aankomt, is email voor de meeste bedrijven een dankbaarder en betrouwbaarder marketingkanaal dan sociale media. Kijk maar:
Nieuwsbrieven verslaan (organische) sociale media qua bereik
Wereldwijd zijn er zo'n 3,9 miljard gebruikers van sociale media, en er wordt verwacht dat dit aantal tegen 2025 zal oplopen tot 4,4 miljard. Qua aantallen halen ze dus (bijna) e-mail in, met ongeveer 4,2 miljard gebruikers in 2022.
Maar de verschillen zitten vooral in kwaliteit, niet in kwantiteit.
De gemiddelde open rate van e-mails ligt rond de 20%, met doorklikpercentages tussen 2% en 7% (afhankelijk van de bron). Dat is niet slecht, zeker als je het vergelijkt met het organische bereik van sociale media, dat rond de 5% ligt.
Als je ze naast elkaar legt, zijn de verschillen vrij duidelijk – een e-mail kan meer dan 10 keer meer mensen bereiken dan een post op sociale media. (Vergeet ook niet hoe lang lezers bezig zijn met de inhoud – 12 seconden om de e-mail te lezen ten opzichte van één seconde waarop de helft van een sociale media-advertentie bekeken wordt.)
In het onderstaande schema zie je hoe goed e-mail presteert als je het vergelijkt met sociale media. Beide scenario's vertrekken van een theoretisch doelpubliek van 10,000 mensen: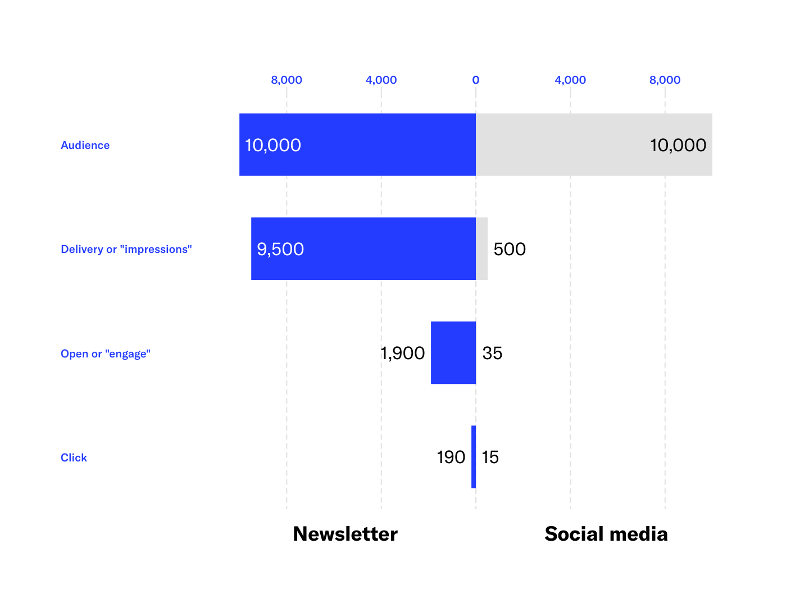 Noot: wie goed had opgelet, ziet dat deze vergelijking niet helemaal klopt. Op sociale media bereik je meer mensen dan enkel je volgers (omdat volgers van volgers je content ook zien als je oorspronkelijke volgers interageren met de content). Maar je haalt niet 10x meer kliks of views.
Nieuwsbrieven bieden meer controle en minder risico dan sociale media
E-mailplatforms zijn geen eigenaar van je publiek, je kan dus overstappen van de ene naar de andere aanbieder zonder helemaal opnieuw te moeten beginnen.
Sociale mediakanalen daarentegen kunnen je account schorsen of zelfs verwijderen als ze vinden dat je inhoud in strijd is met het beleid en de voorwaarden van een bepaald platform. Die schorsingen worden dikwijls getriggerd door gebruikers, wat maakt dat concurrenten met slechte intenties je Instagramaccount of andere kanalen kunnen raken. Dit gebeurt niet frequent, maar frequent genoeg om in het achterhoofd te houden en het kan grote gevolgen hebben voor je omzet.
E-mail geeft je volledige controle over de inhoud (binnen de wettelijke grenzen, vanzelfsprekend).
Je bent niet gebonden aan een mysterieus algoritme
Sociale media gebruikt algoritmen om je inhoud te tonen aan een deel van je volgers. Sociale algoritmen worden geheim gehouden en veranderen regelmatig. Je hebt geen betrouwbare manier om te weten of te beïnvloeden wie kan zien wat je post.
E-mailproviders gebruiken geen algoritmen, zodat je bericht een veel grotere kans heeft om je publiek te bereiken (zie: bereikbaarheid van e-mail, die boven de 90% zit).
Je nieuwsbrieven concurreren (meestal) niet met betaalde advertenties
Met uitzondering van sommige in-client advertenties (bijvoorbeeld in Gmail) heeft betaalde inhoud in e-mail geen voorrang op onbetaalde inhoud. Sociale kanalen daarentegen geven voorrang aan betaalde content omdat het inkomsten genereert. Het organische bereik op sociale media neemt al jaren af, en uit cijfers van 2020 blijkt dat gemiddeld slechts 5,2% van het publiek van een Facebook-pagina een onbetaalde post ziet.
Hoe kan je e-mail content produceren die je abonnees aanspreekt?
E-mail is het sluitstuk bij uitstek voor inbound marketing en content marketing.
Wij zien nieuwsbrieven als een middel om consistente, hoogwaardige content te leveren aan de inbox van een klant, zodat de e-mails een welkome vaste waarde worden en een gevoel van waarde en merkherkenning ontwikkelen na verloop van tijd. Hier lees je hoe je inhoud van hoge kwaliteit creëert die lezers zullen waarderen.
Hou het simpel. Stuur geen nieuwsbrieven die het oog en de hersenen overweldigen met afbeeldingen, achtergronden en effecten. Focus op inhoud, niet op opmaak. Je bedrijfslogo is alle branding die je nodig hebt. E-mail is niet gemaakt voor HTML of video – dus hou het bij voornamelijk tekst.
Schrijf als een mens. Gebruik gewone taal en structureer je inhoud zodat het gemakkelijk te lezen is, met behulp van informatieve tussentitels en korte paragrafen. Varieer met zinnen, maar vergeet niet dat langere zinnen meer hersencapaciteit kosten om te verwerken.
Wees eerlijk. Als je je lezer probeert te misleiden door bijvoorbeeld je onderwerpregel te beginnen met RE: of door grootsprakerige uitspraken te doen, kan je je statistieken kunstmatig manipuleren, maar op de lange termijn zal je er geen vrienden mee maken.
Creëer waarde voor je lezer. Er worden elke dag meer dan 300 miljard mails verstuurd, dus zorg dat de jouwe tellen. Deel kennis en voeg referenties toe die je lezer echt nuttig vindt.
Hou je aan een ritme. Stel een publicatieschema op waar je je aan kunt houden. Elk kwartaal een nieuwsbrief van hoge kwaliteit is beter dan een vlaag van publicaties gevolgd door maanden van stilte.
Stuur geen e-mail zonder uitdrukkelijke toestemming. Versturen naar contacten die niet voor je nieuwsbrief hebben gekozen is niet beleefd en kan de GDPR-wetgeving schenden.
Welk type nieuwsbrief moet je kiezen?
Er zijn een paar beproefde soorten e-mail nieuwsbrieven die een uitgangspunt kunnen bieden voor je eerste campagnes.
De round-up. Een samenvatting van interessante verhalen van je eigen blog of andere platforms.
Het uitgelichte artikel. Een verhaal dat je hebt geproduceerd. Dat kan een manier zijn voor lezers om zich te abonneren op je blog.
De bundel. Een samenraapsel van verhalen, links, vacatures en aanbiedingen, handig als je een uitgebreide database hebt.
De promo. Exclusieve aanbiedingen, kortingen, of aankondigingen over verkoopmomenten en evenementen.
Het enige type e-mail dat we afraden is de algemene "outreach"-formule, waarbij iemand van wie je nog nooit hebt gehoord een praatgraag bericht stuurt over een dienst of product waar je niet om gevraagd hebt. 91% van deze e-mails wordt genegeerd, en het versturen ervan kan je merk zelfs schaden.
E-mailmarketing is geen mijnbouw, het is duurzame landbouw. Het vergt zorg en tijd om dingen te laten groeien. En net als landbouw is er een goede reden waarom het al zo lang bestaat – omdat het werkt.
Bronnen
Brian Boland (2014), Organic Reach on Facebook: Your Questions Answered, https://www.facebook.com/business/news/Organic-Reach-on-Facebook/
Brian Dean (2019), We Analyzed 12 Million Outreach Emails Here's What We Learned, https://backlinko.com/e-mail-outreach-study
Campaign Monitor, Email marketing terms, https://www.campaignmonitor.com/resources/glossary/click-through-rate-ctr/
Campaign Monitor, Ultimate Email Marketing Benchmarks for 2022: By Industry and Day, https://www.campaignmonitor.com/resources/guides/email-marketing-benchma…
Content Cal (2020), What is a Good Social Media Engagement Rate? https://www.contentcal.com/blog/what-is-a-good-social-media-engagement-r…
Direct Marketing Association (2019), Marketer Email Tracker 2019, https://dma.org.uk/uploads/misc/marketers-email-tracker-2019.pdf
Eleventy Marketing Group (2016), 22 New Stats Showing How American Adults Use Email, https://eleventygroup.com/2016/01/05/american-email-usage/
Fluent (2015), The Inbox Report, http://www.fluentco.com/wp-content/uploads/2015/12/Fluent_TheInboxReport…
John Rampton (2017), Is Organic Social Reach Dead? https://blogs.oracle.com/marketingcloud/post/is-organic-social-reach-dead
Kevan Lee, So…Is That Good? The Complete Beginner's Guide to Benchmarking on Social Media, https://buffer.com/library/social-media-benchmarks/#2-trended-benchmarks
Mailchimp, Email Marketing Benchmarks and Statistics by Industry, https://mailchimp.com/resources/email-marketing-benchmarks/
Mel Jouzy (2021), Do you know what are impressions? How they are measured? What is viewability and why do we measure data? https://www.linkedin.com/pulse/do-you-know-what-impressions-how-measured…
Sam Cahoon (2020), Email Open Rates By Industry (& Other Top Email Benchmarks), https://blog.hubspot.com/sales/average-email-open-rate-benchmark
Social status, LinkedIn Organic Reach Rate Benchmark, https://www.socialstatus.io/insights/social-media-benchmarks/linkedin-or…
Statista Research Department (2022), Number of social network users worldwide from 2017 to 2025, https://www.statista.com/statistics/278414/number-of-worldwide-social-ne…
The Radicati Group (2021), Email Statistics Report, https://www.radicati.com/wp/wp-content/uploads/2021/Email_Statistics_Rep…