Met een schok als het Coronavirus komt het beste en slechtste boven in mensen en bedrijven. Vanzelfsprekend zie je een reputationele boost voor beroepscategorieën als verplegers, dokters, apothekers en andere professionals in de frontlinie (supermarktpersoneel).
Maar is er een veilige manier om als bedrijf een initiatief te nemen zonder dat het in je gezicht ontploft? Een overzicht van de reputationele initiatieven die (vooral) bedrijven nemen rond Corona: wie toont corporate citizenship en wie toont zich van zijn smalste kant?
En: wat kunnen bedrijven hieruit leren?
Winnaars
China
Geen bedrijf, maar wie hard aan zijn reputatie werkt in deze crisis is China, dat volgens Politico aan een "niet-zo-subtiele" PR campagne bezig is om goodwill te creëren in de hele wereld. Het land stuurt mondmaskers (ondermeer naar België), dokters (naar Italië), en corona testkits (naar de US). Werkt de strategie? Ja. WHO-directeur Ghebreyesus loofde de Chinese initiatieven als "hartverwarmend voorbeeld van solidariteit".
Jack Ma
Meer specifiek lijkt Jack Ma (oprichter van Alibaba en de rijkste man in China) bezig aan een campagne om harten en geesten voor zich te winnen. Ma's Alibaba Foundation stuurde zo'n 300 000 mondmaskers naar België - voorzien van de slogan "Eendracht maakt macht".
LVMH (en de Belgische stokerijen)
Ryan Heath van Politico deelde alvast een "gouden medaille" uit aan LVMH, het luxe-imperium van Bernard Arnault (Louis Vuitton). Ondanks de zware klap die LVMH kreeg door het virus, besliste het bedrijf om alle cosmeticaproductie stop te zetten en te vervangen door de productie van ontsmettingsalcohol. Weergaloze timing, duidelijke communicatie, en een voorbeeld van hoe bedrijven ook "staatsmanschap" kunnen uitdragen.
Update 19/03: inmiddels zijn de eerste flesjes ook geleverd (beeld: courtesy Wim Wuyts).
Het initiatief vond ook in België heel snel navolging toen (jenever- en andere) stokerijen zich ook aanmeldden om hun productie te switchen naar ontsmettingsalcohol.
Technologie & 3D printing
Ook de technologiesector (en vooral 3D printing) tonen zich van hun beste kant, zoals blijkt uit dit artikel in De Tijd:
"De Italiaanse ondernemer Cristian Fracassi zette zijn start-up Isinnova aan het werk om een oplossing te zoeken voor een ander prangend probleem: het tekort aan een bepaald type kleppen om zuurstofmaskers te verbinden met beademingstoestellen. 'Die Venturi-kleppen zijn onvindbaar omdat de productie de vraag niet kan bijhouden', zegt de 36-jarige ingenieur. Isinnova slaagde erin de kleppen met een 3D-printer te maken. Andere bedrijven volgden dat voorbeeld, waardoor veel Italiaanse ziekenhuizen uit de nood werden geholpen."

"De Leuvense 3D-specialist Materialise verspreidde gratis een ontwerp voor een 3D-geprinte deuropener, om makkelijk deuren te openen en sluiten met de onderarm. De klink kan helpen om de overdracht van het virus van deurklinken op handen te verminderen. Materialise roept eigenaars van 3D-printers in de hele wereld op om de klinken te maken en uit te delen. De 3D-klink kan bovenop een klassieke deurklink gemonteerd worden." (full disclosure: Materialise is een FINN klant)
Ook Belgische 3D-printing speler Twikit zette zich aan het werk. Zij bedachten een 3D geprint mondmasker.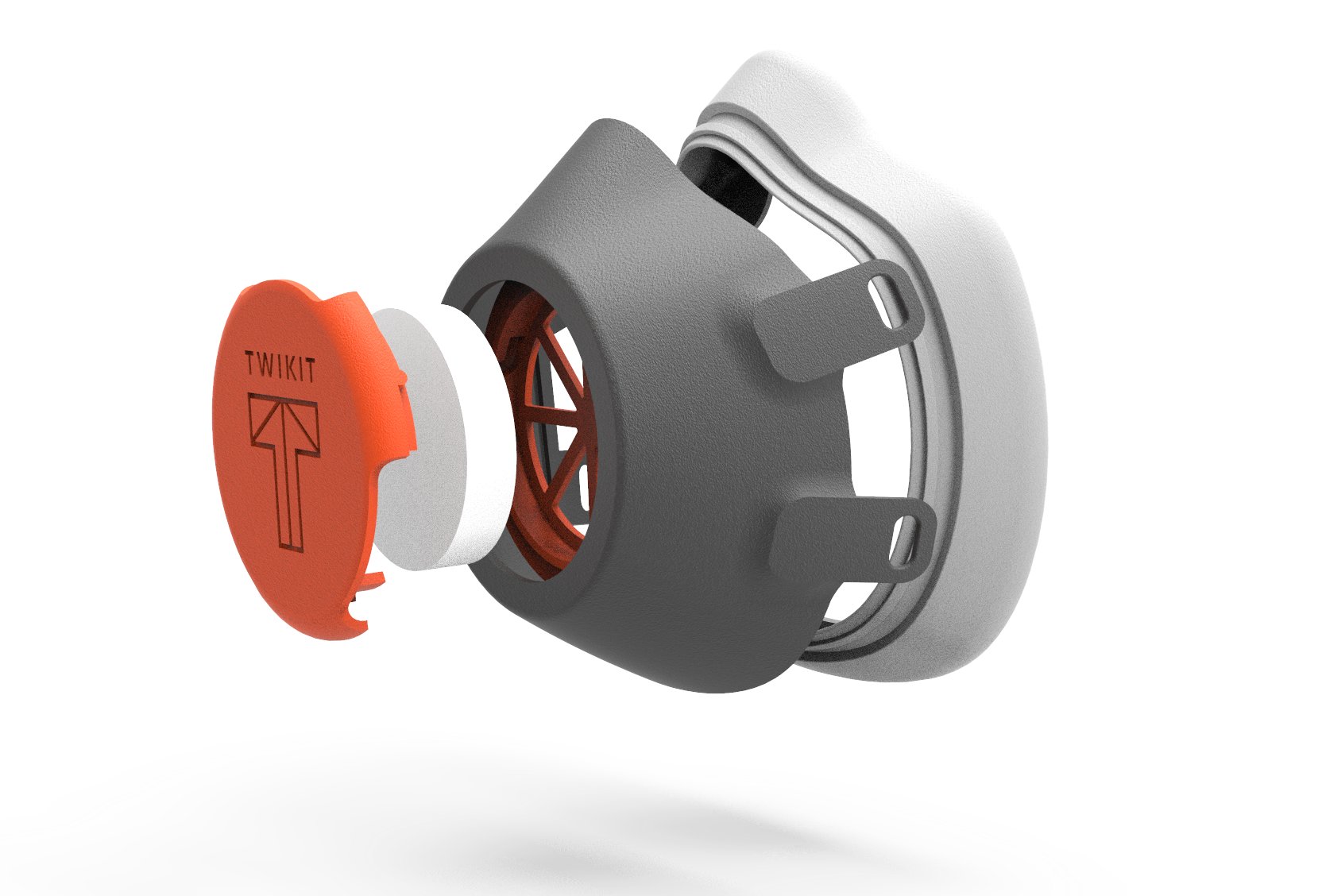 Proximus
Alle telecomoperatoren beslisten om datalimieten te verhogen of eenvoudigweg af te schaffen. Het ljjkt erop dat vooral Proximus kon scoren: het bedrijf was (voor zover we kunnen zien) eerst met zijn communicatie, en was ook het meest genereus: het heft de datalimieten op voor alle gebruikers. Andere providers verhogen de datalimieten maar heffen ze niet op:
De operatoren tonen zich alvast solidair met hun klanten. Zo zullen Proximus-abonnees onbeperkt kunnen bellen naar vaste lijnen in ons land en is er thuis onbeperkt downloadvolume via de vaste internetverbinding. Ook Telenet biedt zijn klanten extra datavolume nu mensen gevraagd wordt om thuis te werken, online lessen te volgen en contacten op afstand te houden in de strijd tegen het coronavirus. Dat meldt Telenet vandaag. Ook Orange doet een geste en biedt postpaidklanten gratis 5GB aan mobiel datavolume aan. (HLN.be)
Delhaize, Aldi
Delhaize voerde al heel snel een apart boodschappenuurtje in voor de meest kwetsbare groepen (65+). Aldi greep in door het aantal klanten per vierkante meter in te perken. (De Standaard):
"Supermarktketen Delhaize geeft 65-plussers expliciete voorrang en toegang tot haar winkels van 8 tot 9 uur 's ochtends. 'We rekenen op de solidariteit en begrip van onze andere klanten en vragen hen met aandrang om buiten dit tijdsvenster hun boodschappen te komen doen', klinkt het."
Lingerieproducent Van de Velde
Mondmaskers waren hot in de eerste dagen van de Coronacrisis, en dat resulteerde in veel huisvlijt van burgers die eenvoudige mondmaskers maakten, maar occasioneel ook een professioneel atelier dat zich omschakelde, zoals lingerieproducent Van de Velde.
De bouwsector (en dierenartsen)
Al heel gauw kwamen vanuit de bouwsector initiatieven op gang om mondmaskers te schenken aan de medische sector, al gauw gevolgd door naai-ateliers en gevangenissen, en later ook door dierenartsen die hun beademingstoestellen uitlenen aan hospitalen. (Bron: De Standaard)
Verliezers
CureVac
Farmabedrijven, en dan vooral vaccinproducten zouden vandaag moeten liften op een golf van steun (en kooporders op de beurs). Het Duitse farmabedrijf CureVac slaagt er echter al dagen niet in om duidelijkheid te verschaffen over de vraag of Donald Trump het bedrijf nu al dan niet naar de VS wilde halen. Terwijl Duitse ministers het verhaal bevestigen, ontkent de directie van het bedrijf het verhaal.
(Niet-genoemd bedrijf)
Terwijl Italië worstelt met een tekort aan beademingstoestellen, blijkt uit een artikel op The Verge dat het bedrijf dat het IP heeft op de Venturi-kleppen dreigde met een schadeclaim tegen het 3D printingbedrijf. Niet meteen de beste manier om sympathie te winnen bij de bevolking.
Labrador Diagnostics LLC
Nog een IP-gerelateerd verhaal: een bedrijf dat oud IP van Theranos (remember?) in zijn portefeuille heeft, verzette zich tegen het gebruik van dit intellectueel eigendom in de ontwikkeling van COVID-19 tests. "De meeste toondove IP rechtszaak in de geschiedenis," volgens Mark Lemley van de Stanford Law School Program in Law, Science and Technology.
"Buy and sell" Antwerpen, nachtwinkel Brussel
Zowel in Brussel als Antwerpen doken verhalen op over nachtwinkels die mondmaskers aan woekerprijzen probeerden te verkopen. Het bleek dan niet eens te gaan om de (schaarse en broodnodige) FFP2 maskers, maar dunne, papieren exemplaren. Dankzij een influencer als Kobe Ilsen sprong het nieuws zeer snel over naar earned media.
Wat leren we hieruit?
De corona-epidemie wordt vaak vergeleken met een oorlog, en de parallellen zijn inderdaad treffend. Hier zijn een aantal overwegingen voor wie wil communiceren tijdens de Corona-crisis:
(De perceptie van) profitariaat en woekeren is reputationeel erg gevaarlijk: net als in een oorlog, zien we felle reacties op bedrijven die proberen om hun kortetermijnwinst boven het algemeen belang te stellen. Nog meer dan anders staan (collectieve) waarden centraal in hoe stakeholders naar bedrijven kijken.
Asociaal gedrag wordt sneller en luider afgekeurd: dezelfde afkeuring zien we voor individuen die het collectief in gevaar brengen - net als in de Blitz toen mensen op de vingers werden getikt omdat ze hun licht niet afschermden. De sociale controle gaat de hoogte in. Negatieve verhalen kunnen in deze context snel een eigen leven gaan leiden: mensen zitten thuis, hebben tijd en zijn emotioneler dan anders. Dat is zoals we vroeger als schreven een perfecte cocktail voor "bad buzz" op sociale media. Zo is er deze zeer emotionele oproep van een verpleegster om niet te hamsteren.
Zet empathie voor je stakeholder centraal: bedrijven die door de filter breken (en dus ook van media permissie krijgen om hun boodschap door te zetten) zijn bedrijven die zich inleven in de bevolking: bijvoorbeeld ouders met kinderen (Proximus en Telenet), ouderen (Delhaize).
Toon de toegevoegde waarde: "start from why". De sterkste acties komen voort uit een goed begrepen gevoel van eigenwaarde, purpose en een dosis creativiteit. LVMH dat zich realiseert dat het ook ontsmettingsalcohol kan produceren is het beste voorbeeld. Het vertrekt niet van: wat kunnen we doen, maar vanuit: waarmee kunnen we het verschil maken? Dit is wat de tijdgenoten van Martin Luther King ook "grip" noemden: het gaat er niet om dat je iets wil zeggen, maar wel dat je iets te zeggen hebt.
"Stand up not because you have to say something, but because you have something to say. Make sure of that first, then say it."