Wat is newsjacking (definitie)? Newsjacking is een pr-tactiek waarin een organisatie bestaand nieuws kaapt om aandacht te krijgen in media of op sociale media. Het woord newsjacking verwijst naar het Engelse "hijacking" of kaping.
Het concept werd gepopulariseerd in het boek "Newsjacking" van David Meerman Scott uit 2011 – maar het brak pas echt door als één van de "woorden van het jaar" in 2017, toen het ook de Oxford Dictionary haalde.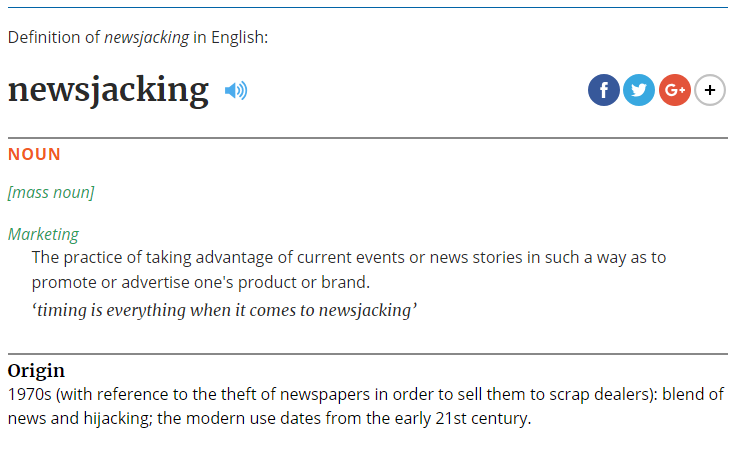 David Meerman Scott zegt er zelf verbaasd over te staan dat het woord eerst wegdeemsterde en nu helemaal terug is. Maar voor wie in communicatie werkt, wekt het misschien minder verbazing. Het heeft inderdaad een jaar of tien geduurd voor bedrijven de juiste mix vonden tussen social, marketing, conversation management en PR – en voor ze zich baanvast voelden om wat newsjacking in hun mix op te nemen.
Bij een succesvolle newsjacking slaagt een organisatie erin om een marketingboodschap te injecteren in de verslaggeving over een bepaald feit. Om dat succesvol te doen, moet de organisatie (meestal snel) reageren op een nieuwsfeit dat op korte tijd heel veel persaandacht genereert.
Wat is het voordeel van newsjacking?
Newsjacking is geen must, natuurlijk, maar succesvol newsjacken helpt je brand wel vooruit. Volgens Binet en Field (2013) is "share of voice" een belangrijke factor in de groei van merken. Kort door de bocht: als je merk erin in slaagt om meer share of voice te verwerven, ga je op termijn ook een groter marktaandeel verwerven. Massamedia en word of mouth (ook wel "buzz") zijn twee uitstekende kanalen waarmee je je share of voice kan vergroten.
Daarnaast toont succesvol newsjacken ook aan je stakeholders dat je merk bezig is met de buitenwereld: dat is dan weer goed voor je reputatie.
Hoe werkt newsjacking?
Newsjacking vereist een uitstekend gevoel voor timing. Om succesvol te newsjacken moet de organisatie zijn reactie kenbaar maken (via sociale media of via een persbericht) terwijl het nieuws zich snel aan het verspreiden is en veel aandacht trekt – maar nog voor de meeste media erover hebben bericht.
Newsjacking case: Starbucks en Game of Thrones
In het virale verhaal over de koffiebeker in Game of Thrones, sprokkelde Starbucks voor zo'n 2,3 miljard dollar aan advertentiewaarde. Het succesrecept? Een gevatte verwijzing naar een Starbucks product (Dragon Drink) én een uitgekookte timing. (Allemaal des te sterker omdat het géén Starbucks koffie was!)
Wat is het succesrecept hier? De clash van de mega-brands Game of Thrones en Starbucks in de eerste plaats. Daarnaast het feit dat Starbucks erin slaagde om heel erg nonchalant te klinken ("TBH" voor "to be honest", een bijna reddit-achtige opener), een vleugje humor én een Starbucks-product in zijn reactie te stoppen. Er heeft een team copywriters gezweet om die perfecte zin op Twitter te krijgen.
Social media is het aangewezen kanaal om aan newsjacking te doen, maar het kan evengoed een korte e-mail zijn naar een bevriende journalist, of waarom niet: een persbericht naar je vaste segment journalisten.
Newsjacking case: Doccle en de elektronische loonbrieven
In juni 2018 stelde N-VA kamerlid Wim Van der Donckt voor om papieren loonbrieven af te schaffen. Ons leek het een verhaal dat tractie kon krijgen: digitalisering is een grote trend in media en zo'n 70 procent van de Belgen is aan het werk. Bovendien zijn mensen geneigd om veel belang te hechten aan hun loonbrief (of minstens aan hun salaris).
Door snel te schakelen met onze klant Doccle slaagden we erin om een reactie te formuleren ("Elektronische loonbrieven via Doccle zijn vandaag al technisch mogelijk voor 75 procent van de werknemers, zonder enige extra investering") en mee te krijgen in het gros van de verslaggeving over het voorstel, zoals in Het Nieuwsblad en VTM.
Maar je kan newsjacking ook op voorhand plannen in sommige gevallen.
Newsjacking case: Zipcar en het taxiplan
Je kan newsjackings ook op voorhand plannen: van sommige nieuwsfeiten weet je nu eenmaal dat ze eraan komen.
Er werd destijds met spanning uitgekeken naar het taxiplan van Pascal Smet in Brussel. Zou Smet de weg vrijmaken voor Uber, of zou het taximonopolie standhouden? En: als Ubers toegelaten werden, zouden ze dan op de busbaan mogen, zoals taxi's?
Dat bracht ons op het idee om wat aandacht te genereren voor onze klant Zipcar. Want als taxi's op de busbaan mogen, waarom deelauto's dan niet? Onze tactiek was eenvoudig: we stuurden een persbericht uit waarin Zipcar het recht opeiste om ook de busbaan te gebruiken – mét een Photoshop beeld waarop je een busbaan ziet met "car sharing". Ondermeer Le Soir pikte het verhaal op. Oké, je haalt er geen 2 miljard aan media-waarde uit, maar het is een low cost manier om awareness te creëren voor een nieuw concept, en om de boodschap van car sharing onder de aandacht te brengen.
Succesfactor hier: vrijwel zeker het beeld dat voor zichzelf sprak.
Newsjacking is timing
In elk geval vereist newsjacking een uitstekend gevoel voor timing. Je wil je reactie uitsturen op een ogenblik dat een nieuwsfeit duidelijk tractie heeft – maar nog niet volledig is doorgebroken.
De reden: als iedereen het bericht al heeft opgepikt, ben je te laat – het is als proberen om op je surfplank een golf in te halen (lukt niet). Je moet op de golf zitten.
In België hanteren wij de volgende vuistregel. Wij mikken bij newsjacking op het moment dat berichtgeving al op één of twee online media is opgepikt – maar dat het nog niet op televisie-uitzendingen of in print is verschenen.
Het feit dat een tweetal online media het nieuws oppikten, toont dat er interesse is en dat media het niet beschouwen als "dat is een verhaal van HLN". Soms gebeurt het dat een online medium probeert uit te pakken met een verhaal, maar dat andere nieuwsorganisaties het links laten liggen omdat ze geen zin hebben om hun concullega te kopiëren (of om die collega krediet te geven). En soms kan het hen niks schelen om te copy-pasten (raar, maar zo is het).
Het feit dat het nog niet in print verscheen, biedt de mogelijkheid dat televisiejournaals en print edities het verhaal nog oppikken voor het avondnieuws of de krant van de volgende dag.
Newsjacking vereist een catalogus met strategische boodschappen
Je kan niet newsjacken als je geen idee hebt wat het standpunt is van je organisatie over bepaalde topics die leven in de maatschappij.
Voor issues hebben bedrijven meestal een catalogus met boodschappen – maar voor trends die opportuniteiten bieden veel minder vaak. Nochtans is het heel nuttig om op gezette tijden met de CEO (of andere C-levels) te praten over recente trends en ontwikkelingen, en daar bedrijfsstandpunten rond te ontwikkelen en die ook te documenteren en naar buiten te brengen (ook bekend als: "thought leadership").
Die standpunten komen vaak van pas bij newsjacking. Het is veel makkelijker voor je CEO om een "go" te geven als je aan de slag gaat met boodschappen die al ooit gebruikt zijn, dan met boodschappen die je snel-snel moet ontwikkelen voor de gelegenheid.
Bouw dus op kalme momenten een corporate communicatiecatalogus op die niet alleen bestaat uit je antwoorden op issues, maar die ook ruimte laat voor trends in je sector. Die kan je dan gebruiken als er grote tijdsdruk is, zoals tijdens een (poging tot) newsjacking.
Newsjacking is een oefening in balans (en tone of voice)
Het is makkelijk om meegesleept te worden door snel brekend nieuws. En om je collega's te overtuigen is soms een dosis enthousiasme nodig.
Stuur dus geen newsjackings uit zonder dat iemand je boodschappen (en visuals) beoordeelt met de blik van een neutrale buitenstaander. Je wil vermijden dat je je belachelijk maakt ("the ridicule factor"), maar ook dat je ervan wordt beschuldigd dat je tragische gebeurtenissen gebruikt voor marketing doeleinden.
Dat overkwam 3 Suisses toen het reageerde op de terroristische aanval op Charlie Hebdo: het maakte een visuele woordspeling op "Je Suis Charlie"/"Je 3Suisses Charlie". De reacties waren zeer heftig, zoals je kan verwachten.
Wanneer niét newsjacken?
Newsjacking is een delicate kunst – soms is het beter een trein te laten passeren dan te proberen erop te springen.
Doordat de doorlooptijd voor newsjacking zo kort is (pakweg 1 à 3 uur maximum), zet je je eigen organisatie onder druk: je wil iets laten goedkeuren buiten de geijkte processen en doorlooptijden om. Bovendien moet je wellicht toestemming krijgen van C-level of directieniveau als je bepaalde stellingen wil innemen in de communicatie. Het is niet ongewoon dat organisaties dan wat beginnen terugduwen, of beginnen twijfelen. Bovendien kan je jezelf in een lastig parket brengen als je reactie niet het gewenste effect heeft (of ongewenste effecten heeft).
Evalueer dus op elk moment of het sop de kool nog waard is.
Wees niet bang om een actie stop te zetten als je merkt dat je de golf gemist hebt, of als je merkt dat het topic toch minder leeft dan je dacht, of als de timing niet toelaat om op tijd met een reactie te komen. Er komen nog golven.
Lees ook: het interview met FINN managing partner Kristien Vermoesen op RTBF over newsjacking naar aanleiding van de Game of Thrones koffiebeker (in het Frans).
Heb jij nog tips en best practices voor newsjacking? Laat horen in de comments of op Twitter (@finnbe)!